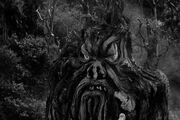 Tobonga is a killer tree stump. It Conquered the World.
The movie is actually- From Hell It Came

The movie is is truly bad and boring. Makes good moving painting at parties. Bright spots are natives falling down in fright before the cranky stump kills them. I won't spoil the ending by sharing how the killing gets done. I was too imprressed by the native costumes which I believe are Duz Laundry promos. Beach towels were put in boxes of detergent in the 50's early 60's. The flowers are unmistakable. I think I still have a time period hand towel. Great towels.
Ad blocker interference detected!
Wikia is a free-to-use site that makes money from advertising. We have a modified experience for viewers using ad blockers

Wikia is not accessible if you've made further modifications. Remove the custom ad blocker rule(s) and the page will load as expected.