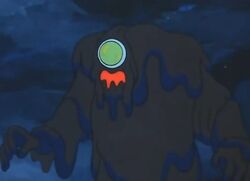 The Tar Monster is villainous cyclopean creature made of tar which first appeared in The Scooby-Doo Show, where he (like every other villain from the show) turned out to be a disguised criminal. It appeared in the ruins of a recently discovered ancient city in Turkey which was being explored by Dr. Brixton.
It later appeared as one of the recreated virtual monsters in Scooby-Doo and the Cyber Chase and then as a real monster created by Dr. Jonathan Jacobo (based on the original costume) in Scooby-Doo 2: Monsters Unleashed.
Ad blocker interference detected!
Wikia is a free-to-use site that makes money from advertising. We have a modified experience for viewers using ad blockers

Wikia is not accessible if you've made further modifications. Remove the custom ad blocker rule(s) and the page will load as expected.