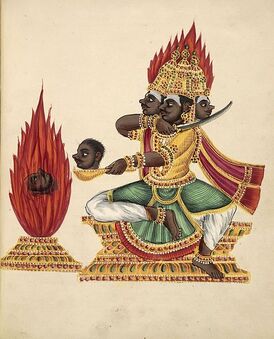 A Rakshasa is said to be a mythological humanoid being or unrighteous spirit in Hinduism. As mythology made its way into other religions, the rakshasa was later incorporated into Buddhism. Rakshasas are also called man-eaters (Nri-chakshas, Kravyads). A female rakshasa is called a Rakshasi, and a female Rakshasa in human form is a Manushya-Rakshasi. Often Asura and Rakshasa are interchangeably used.
Ad blocker interference detected!
Wikia is a free-to-use site that makes money from advertising. We have a modified experience for viewers using ad blockers

Wikia is not accessible if you've made further modifications. Remove the custom ad blocker rule(s) and the page will load as expected.