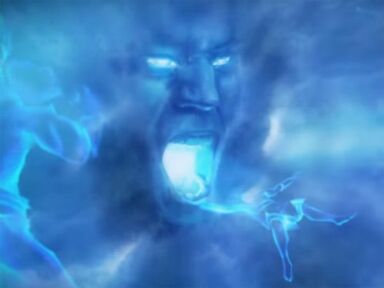 First introduced in
Mortal Kombat: Deception
, the
One Being
is considered to be the origin of the many realms of reality (Earthrealm,
Netherrealm
,
Outworld
, Orderrealm, Chaosrealm, Edenia, and others yet to be mentioned in the storyline). According to ancient legend, in the beginning of time, there only existed the One Being and the
Elder Gods
.
The One Being fed off of the essences of the Elder Gods, but eventually, the Elder Gods defeated the One Being, and, in efforts to weaken the One Being's omnipotence, the Elder Gods separated the One Being's consciousness into the realms and created six Kamidogu, which held the essence of the One Being. The legend decrees that if one were to obtain all six Kamidogu with the Sacred Amulet, he or she would be granted ultimate power.
The One Being's disembodied consciousness seeks to reunite all the realms in order to make itself whole again. It is implied that it has acted through beings such as Onaga and Shao Kahn, and is responsible for their attempts to merge all realms - particularly Earthrealm - into Outworld.
Although the storyline of Deception would seem to hint that the One Being would be the villain of the next title, Mortal Kombat: Armageddon, this was later proven false, as Blaze would end up as the final boss in this game. The One Being is only mentioned twice in Armageddon: once in a passing statement about the kombatants "tapping into the power that make the realms", which may or may not refer to the One Being, and more directly by name during Kai's game ending.
In Mortal Kombat (2011), Shao Kahn is hinted at being under the influence of the One Being as he stands atop the Pyramid of Argus, prepared to begin Armageddon and destroy the realms. This event, in the second timeline, is hastened to the final events of Mortal Kombat 3, when Shao Kahn has almost merged Earthrealm with Outworld, and at the same time he is ending all things in existence. However, the Elder Gods intervene and destroy Shao Kahn, thereby halting whatever plans the One Being may have had.
Ad blocker interference detected!
Wikia is a free-to-use site that makes money from advertising. We have a modified experience for viewers using ad blockers

Wikia is not accessible if you've made further modifications. Remove the custom ad blocker rule(s) and the page will load as expected.