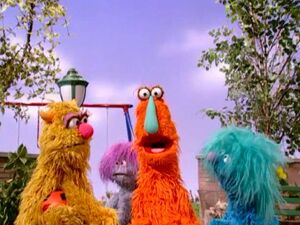 Narf is one of the quartet of fun-loving monsters on Sesame Street's Monster Clubhouse segments.
Like Cookie Monster, he has googly eyes.
Outside of the Clubhouse, Narf taught Pino to play with other monsters by singing "Don't Be a Bully".
He appeared as one of the ten monsters in the Furry Monster Parade in The Street We Live On to determine the number of the day.
On 5, Rue Sésame, Narf is one of the main characters and is called Yoyo. He is potrayed as a very worried monster who makes friends easily.
"Narf" is a backward name for "Fran".
Ad blocker interference detected!
Wikia is a free-to-use site that makes money from advertising. We have a modified experience for viewers using ad blockers

Wikia is not accessible if you've made further modifications. Remove the custom ad blocker rule(s) and the page will load as expected.