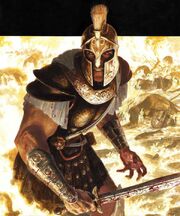 Myrmidons
were an acclaimed tribe of swordsmen in ancient Greece. The name means "ant men" and is attributed to their devotion to their leader, much like an ant's single-minded service to its colony. At one point they were lead by Achilles. They were also known to be the most fiercesome warriors in all of Greece.
Ad blocker interference detected!
Wikia is a free-to-use site that makes money from advertising. We have a modified experience for viewers using ad blockers

Wikia is not accessible if you've made further modifications. Remove the custom ad blocker rule(s) and the page will load as expected.