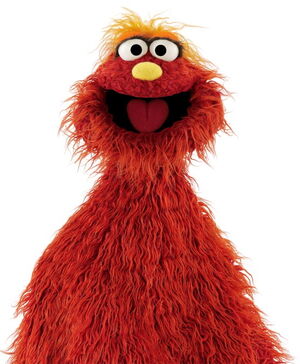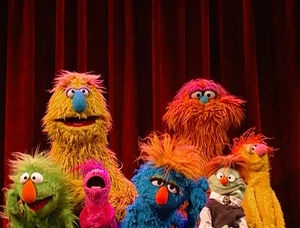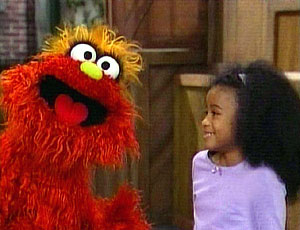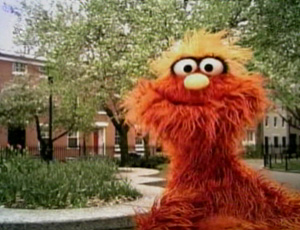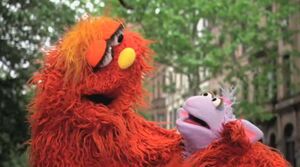 Murray Monster is a Sesame Street monster who hosts two regular segments, "The Word of the Day" and "Murray Has a Little Lamb".
An energetic monster, his early talk spots with kids in Season 36, often discussed the importance of exercise and healthy habits with young visitors.
Although unnamed, the character was referred to on the set as "FilFil," as his design is based on that of Filfil from Alam Simsim. Beginning in Season 38, he gained an identity as Murray, hosting the "What's the Word on the Street?" segments that precede each episode of Sesame Street. In season 39, he began appearing in his own segment, Murray Has a Little Lamb, where he goes to a certian school with his pet lamb, Ovejita. In season 40, he started serving as a host of the new "block format", presenting the letter and number of the day, introducing upcoming sketches within the episodes, and announcing the sponsors. Murray was given a new segment in Season 42, Murray's Science Experiments, which are spread through the tune-ins. He is again with Ovejita.
He hosts the Sesame Street Podcast and appears as one of the reporters for ESSN (Ernie's Sports Show News) on Count on Sports.
In a Tough Pigs interview, performer Joey Mazzarino said of Murray:
Based on the song "Sound of the Letter L", the earliest version of Murray Monster has pink hair, hot magenta eyelids and a blue nose and the later version of himself has Yellow nose, orange eyelids and hair but he has the same color as the early version for the body and face.
In a deleted interview scene for What's the Word on the Street?, used in a Behind the Scenes spot on the Sesame Street website, Murray alludes to an as-of-yet-unseen superhero alter ego.
External links
Edit
For a gallery of Murray Monster, Se Murray Monster/Gallery for more photos
Ad blocker interference detected!
Wikia is a free-to-use site that makes money from advertising. We have a modified experience for viewers using ad blockers

Wikia is not accessible if you've made further modifications. Remove the custom ad blocker rule(s) and the page will load as expected.