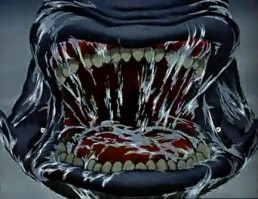 Monstro is an enormous whale, a mix between a sperm whale and a blue whale, and the climax antagonist of Pinocchio. While Pinocchio spends the night in Stromboli's troupe and, later, Pleasure Island, Gepetto searches for his son. Taken to sea, the show owner, Figaro and Cleo are swallowed whole (complete with a boat) by Monstro the whale. The whale later swallows Pinocchio, when the little wooden boy comes searching for his father. Monstro has a reputation as a "whale of a whale" and is feared by all the creatures of the sea, and apparently on land, as even Jiminy knew of him and of his deeds. In Pinocchio, Monstro was animated by Wolfgang Reitherman. The whale also appears in Kingdom Hearts.
Ad blocker interference detected!
Wikia is a free-to-use site that makes money from advertising. We have a modified experience for viewers using ad blockers

Wikia is not accessible if you've made further modifications. Remove the custom ad blocker rule(s) and the page will load as expected.