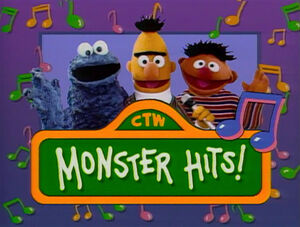 Monster Hits! is a 1990 Sesame Street direct-to-video compilation, part of the Sesame Songs Home Video series. Herry Monster is the host of "The Fuzzy Awards", an awards show for the best monster songs. A winner is already written in the envelope, but the envelope can't be opened until after all of the songs have been shown (though Elmo really wants to know in advance which song is the winner).
The names of the performers and song titles appear on-screen at the beginning and ending of the songs, while "C is for Cookie" also has "Fuzzy Award Winner" written on-screen. The songs also have audience sound effects added.
The video is included as a bonus feature in Big Elmo Fun.
Image
Segment
Description



FRAME 1

The announcer introduces the "live - on tape" ceremony and it's host Herry Monster, who explains that one of the year's monster song hits will win the Fuzzy Award. Elmo, who holds the envelope with the winner's name inside, is eager to know who won. Herry tries to take the envelope to keep Elmo from opening it, which leads to an onstage chase.

The announcer introduces the first two Monster Hits...

Muppets

The Aristocrats
"Fur"
(Beginning edited)
Template:First

Muppets

Herry Monster and Family
"Herry's Family Song"

FRAME 2

Herry briefly stops chasing Elmo to introduce (and imitate) the next nominee.

Muppets

Frazzle and Friends
"Frazzle"
(Beginning edited)


Muppets

Herry and The Singing Heads
"Two Heads Are Better Than One"

FRAME 3

Herry has Elmo promise that he won't open the envelope, and then introduces the next song.

Muppets

Grover, Herry, Cookie Monster and Frazzle
"Fuzzy and Blue"
(Beginning edited)
Template:Eka

Muppets

Furline Huskie
"Comb Your Face"

FRAME 4

Herry presents "The Lifetime Monster Achievement Award" to his mommy, who sobs hysterically "I couldn't have done it without you son!" Herry then presents a special song to his mom before crying with her.

Muppets

Herry Monster
"That Furry Blue Mommy of Mine"
(Edited from episode 1052)

FRAME 5

Elmo asks Herry if the envelope can be opened soon, to which Herry replies "Yes ...after three more songs."

Muppets

Cookie Monster
"Healthy Food"
Template:Eka

Muppets

Grover
"What Do I Do When I'm Alone?"
Template:Eka

Muppets

The Furtones
"We Are All Monsters"
(redubbed version)
Template:First

FRAME 6

The time has finally come to open the envelope. Special guest Cookie Monster comes onstage to announce the winner, but becomes tempted to eat the envelope ("Big moral decision") and does. Elmo looks inside Cookie's mouth to see who the winner is, which happens to be Cookie.

Muppets

Cookie Monster
"C is for Cookie"
(clapping sound effects added)
Template:Eka

FRAME 7

Cookie holds his Fuzzy Award victoriously as cameras flash. Herry closes the show by saying "Thanks fur everything."

As the credits roll, the announcer mentions Transportation by "Titanic Airlines." Accommodations by "Great Monster Motels."
On-screen titles
Edit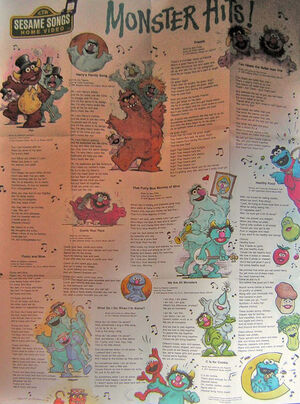 The design of "West Monster Auditorium," seen at the beginning of the video, is based on Radio City Music Hall.
Cookie Monster's dialogue in the framing material was prerecorded. His first line "Thank you, thank you. Monster, thank you." is repeated thrice.
Characters
Edit
Linking Footage:
Inserts:
Herry Monster, Cookie Monster, Grover, Frazzle, Elmo, Two Headed Monster, Stuie Monster, Furline Huskie, Little Chrissy, Maurice Monster, Harvey Monster, Clancy, Kermit the Forg, Herry's Father, Herry's Mother, Herry's Granny, Billy, Fenwick, Oscar the Grouch
"Sesame Street "Puppet Performers"
Ad blocker interference detected!
Wikia is a free-to-use site that makes money from advertising. We have a modified experience for viewers using ad blockers

Wikia is not accessible if you've made further modifications. Remove the custom ad blocker rule(s) and the page will load as expected.