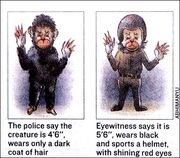 In May 2001, reports began to circulate in the Indian capital New Delhi of a strange monkey-like creature that was appearing at night and attacking people.[1] Eyewitness accounts were often inconsistent, but tended to describe the creature as about four feet (120 cm) tall,[2] covered in thick black hair, with a metal helmet, metal claws, glowing red eyes and three buttons on its chest. Others have described it as a bandaged figure or as a helmeted thing. Theories on the nature of the Monkey Man ranged from an Avatar of the Hindu god Hanuman, to an Indian version of Bigfoot.[3]
Many people reported being scratched, and two[2] (by some reports, three) people even died when they leapt from the tops of buildings or fell down stairwells in a panic caused by what they thought was the attacker. At one point, exasperated police even issued artist's impression drawings in an attempt to catch the creature.
The entire incident has been described as an example of mass hysteria
Specific incidents
On 13 May 2001, 15 people suffered injuries ranging from bruises to bites and scratches.[3]
On 15 May 2001, a pregnant woman fell down some stairs fleeing after neighbors shouted that they had seen the Monkey Man.
A 4-foot-tall (1.2 m) wandering Hindu sadhu was beaten up by an angry mob who mistook him for the Monkey Man.
On 18 May 2001, a van driver was set upon and sustained multiple fractures in another case of mistaken identification as Monkey Man.
Further sightings were reported in Kanpur in February 2002 and New Delhi in July 2002, the latter describing a monkey-like machine that sparkled red and blue lights
Ad blocker interference detected!
Wikia is a free-to-use site that makes money from advertising. We have a modified experience for viewers using ad blockers

Wikia is not accessible if you've made further modifications. Remove the custom ad blocker rule(s) and the page will load as expected.