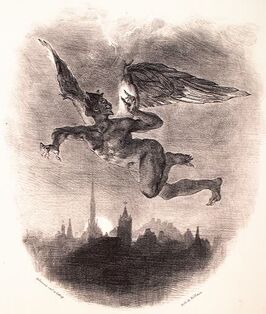 Mephistopheles - or Mephisto for short - is a demon originating from German folklore. This character originally appeared in the legend of Faust and was a messenger of Satan. According to the original tale, Faust had summoned Mephistopheles in order to forge a contract with the Devil, having all of his wishes granted in exchange for his soul.
The Legend of Faust
Edit
Faust is bored and depressed with his life as a scholar. After an attempt to take his own life, he calls on the Devil for further knowledge and magic powers with which to indulge all the pleasure and knowledge of the world. In response, the Devil's representative, Mephistopheles, appears. He makes a bargain with Faust: Mephistopheles will serve Faust with his magic powers for a set number of years, but at the end of the term, the Devil will claim Faust's soul, and Faust will be eternally damned. The term usually stipulated in the early tales is 24 years; one year for each of the hours in a day.
During the term of the bargain, Faust makes use of Mephistopheles in various ways. In many versions of the story, particularly Goethe's drama, Mephistopheles helps Faust seduce a beautiful and innocent girl, usually named Gretchen, whose life is ultimately destroyed. However, Gretchen's innocence saves her in the end, and she enters Heaven. In Goethe's rendition, Faust is saved by God's grace via his constant striving—in combination with Gretchen's pleadings with God in the form of the Eternal Feminine. However, in the early tales, Faust is irrevocably corrupted and believes his sins cannot be forgiven; when the term ends, the Devil carries him off to Hell.
Ad blocker interference detected!
Wikia is a free-to-use site that makes money from advertising. We have a modified experience for viewers using ad blockers

Wikia is not accessible if you've made further modifications. Remove the custom ad blocker rule(s) and the page will load as expected.