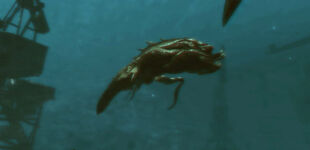 Manglers are aquatic creatures from the Gears of War universe. Residing in submerged areas of the Hollows, these creatures were often used by the Locust to pull their patrol boats in the lakes and rivers surrounding Nexus. Manglers swam in large shoals, and were very aggressive. Before the Sinking of Jacinto, Manglers were only present in the Hollows. However, the sinking released large numbers of the creatures into the Serano Ocean, along with Leviathans.
Ad blocker interference detected!
Wikia is a free-to-use site that makes money from advertising. We have a modified experience for viewers using ad blockers

Wikia is not accessible if you've made further modifications. Remove the custom ad blocker rule(s) and the page will load as expected.