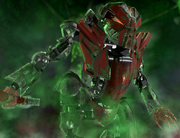 Makuta are a race of evil entities from the BIONICLE universe. They are made out of Antidermis and have the ability to use all 42 Rahkshi powers as well as absorb beings via shadowhand and create Kraata.
Rahkshi Powers:
Accuracy
Adaptation
Anger
Chain Lightning
Chameleon
Confusion
Cyclone
Darkness
Density Control
Disintegration
Dodge
Elasticity
Lightning
Fear
Fire Resistance
Gravity
Heat Vision
Hunger
Ice Resistance
Illusion
Insect Control
Invulnerability
Laser Vision
Magnetism
Mind Reading
Molecular Disruption
Plantlife
Plasma
Poison
Power Screaming
Quick Healing
Rahi Control
Shapeshifting
Shattering
Silence
Sleep
Slowness
Sonics
Stasis Field
Teleportation
Vacuum
Weather Control
Ad blocker interference detected!
Wikia is a free-to-use site that makes money from advertising. We have a modified experience for viewers using ad blockers

Wikia is not accessible if you've made further modifications. Remove the custom ad blocker rule(s) and the page will load as expected.