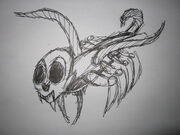 MARIANA was the result of an abandoned British military project.
Search For Mariana's Web
Edit
In the blog Search For Mariana's Web, the user BlueAdept documented his research into the fabled fifth level of the Internet and Deep Web, which was known colloquially as Mariana's Web. 
Upon finding certain incriminating information, he was apparently transported somewhere. It is unknown whether this was physical, mental, or some other way.
The image has been taken from the most recent Record of Mariana's Web.
MARIANA was the product of research made by the PrimArch and the Neurosis projects, used to work on the entity in an operation codenamed 'Protocol October' to prevent rumours leaking out. 
The ongoing investigation can be found here:
Ad blocker interference detected!
Wikia is a free-to-use site that makes money from advertising. We have a modified experience for viewers using ad blockers

Wikia is not accessible if you've made further modifications. Remove the custom ad blocker rule(s) and the page will load as expected.