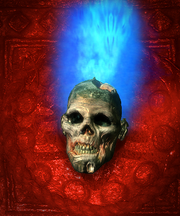 A Lost Soul can be a ghost that is a person going down to hell and choosing to wander off causing them to become lost and as a punishment,to walk the earth in pain forever. Some of them, however, are simply souls who are stuck in the realm of the living. This could happen in many ways. One may not have been baptized or given a proper burial, have died suddenly, have unfinished business, or simply not realize they are dead. Many are unhappy and need help getting to the the next world and should you meet one of these kinds of lost souls you should try to help them. As this can be difficult, do not be discouraged if you are unable to do it. Some priests and real psychics are unable to perform this.
Ad blocker interference detected!
Wikia is a free-to-use site that makes money from advertising. We have a modified experience for viewers using ad blockers

Wikia is not accessible if you've made further modifications. Remove the custom ad blocker rule(s) and the page will load as expected.