The Hodag was first spotted in Wisconsin state, around 1893. It appeared to have the face of a frog, a tail with a spear on the end, huge claws at the ends of short legs, and the grin of an elephant.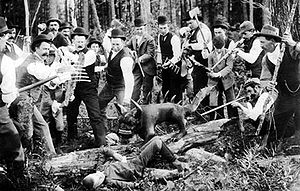 As seen in the picture, Eugene Shepard had caught a Hodag, and people were very frightened. Even though later Shepard said it was a hoax, thousands of people gathered when Shepard showed off his hoax at a fair.
There is a river named after the Hodag in eastern Montana, although no one knows why it is called as such.
Ad blocker interference detected!
Wikia is a free-to-use site that makes money from advertising. We have a modified experience for viewers using ad blockers

Wikia is not accessible if you've made further modifications. Remove the custom ad blocker rule(s) and the page will load as expected.