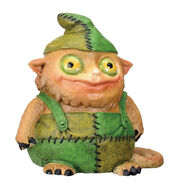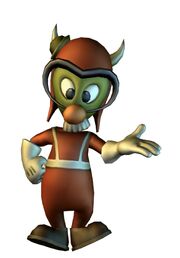 A
Gremlin
is a
Troll-like
mythological creature.
A monster and troll-like creature.
World War II
Edit
Gremlins became technological creatures after World War II, messing with electrical equipment, and vehicles.
Some claims that Russians had approximately 3 large gremlin armies attacking their common enemies. Because the Gremlin overlord was found hungry and taken care of by some very good natured and very kind grandmother. Strangely, Gremlin did not attack or mess up her house. Instead it talked strange with hisses and in the end led armies against their common enemy. Two soldiers claimed to see those gremlins, but authorities did not believe them and they were took to prison as deserters. Now as that they've long passed away, their experiences will possibly never be shared. Those facts are still kept as secret or disposed of. Yet the infamous legend of the Gremlin Overlord in mother Russia, lives.
Why would the gremlin help, remains secret for those of us who live after the World War II. Yet some believe it may be because the enemy for both Gremlins and Russians was one, and Gremlins became weaker with the human war. Although incredible damage was done to Russian nature by the enemy. What happened afterwards and where the gremlin resides (if it still lives) now, is not known.
Gremlins is a 1984 American horror comedy film directed by Joe Dante, released by Warner Bros. The film is about a young man who receives a strange creature—called a Mogwai—as a pet, which then spawns other creatures who transform into small, destructive, evil monsters. It was followed by a sequel,Gremlins 2: The New Batch, released in 1990. In contrast to the lighter sequel, the original Gremlins opts for more black comedy, which is balanced against a Christmas-time setting. Both films were the center of large merchandising campaigns.
Steven Spielberg was the film's executive producer and the screenplay was written by Chris Columbus. The film stars Zach Galligan and Phoebe Cates, with Howie Mandel providing the voice of Gizmo. Gremlins was a commercial success and received positive reviews from critics. However, the film was also heavily criticized for some of its more violent sequences. In response to this, and to similar complaints about other films (Indiana Jones and the Temple of Doom), Steven Spielberg suggested that the Motion Picture Association of America (MPAA) reform its rating system, which it did within two months of the film's release.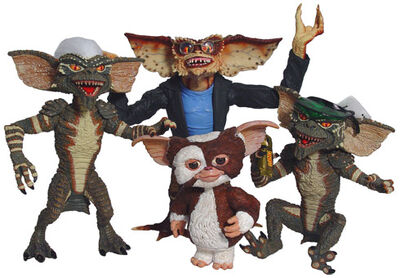 Ad blocker interference detected!
Wikia is a free-to-use site that makes money from advertising. We have a modified experience for viewers using ad blockers

Wikia is not accessible if you've made further modifications. Remove the custom ad blocker rule(s) and the page will load as expected.