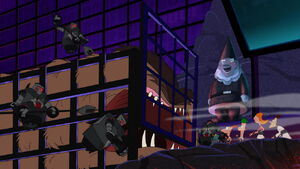 Goozims are large, brown, hairy, seemingly carnivorous creatures native to Drusselstein.
Information
Goozims appear to be dangerous but capturable as a game in Druelselstein called "Poke the Goozim with a Stick" shows one being locked up and poked by civilians. Heinz Doofenshmirtz's unnamed father was the winner of "Poke the Goozim with a Stick" and received a Spitzenhound as a prize, which he named "Only Son" ("Got Game?").
A 2nd Dimension Goozim is later used by the 2nd Dimension's Heinz Doofenshmirtz in an attempt to eat the 1st Dimension's Phineas, Ferb, Candace, Agent P, and 1st Dimension Heinz Doofenshmirtz ("Phineas and Ferb The Movie: Across the 2nd Dimension"). An uncaged Goozim later appeared in Doofenshmirtz's dream in Sleepwalk Surprise.
Poke the Goozim with a Stick
This appears to be a traditional and popular game in Gimmelshtump. The game is very simple, in which people simply poke the Goozim with a stick. It is unknown how one wins this game, but prizes may be awarded based on the Goozim's reaction to the poking. Heinz Doofenshmirtz's unnamed father appeared to use a special stick with a badly-made sackcloth horse-head on it; this may have been an official Goozim-poker, or simply Mr. Doofenshmirtz's favorite stick.
Background Information
Gallery
Ad blocker interference detected!
Wikia is a free-to-use site that makes money from advertising. We have a modified experience for viewers using ad blockers

Wikia is not accessible if you've made further modifications. Remove the custom ad blocker rule(s) and the page will load as expected.