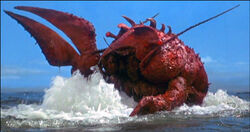 Ebirah (エビラ, Ebira) was a giant lobster monster that battled Godzilla in the 1966 film Godzilla vs. the Sea Monster, and again later in Godzilla: Final Wars.
Description
Edit
Ebirah looked like a giant lobster with a segmented red body, two antennae, eyes on stalks, and one claw which was significantly larger than the other. Ebirah lived underwater off the coast of Devil's Island.
In Godzilla vs. the Sea Monster, Ebirah was 30 meters tall, 60 meters in length, and weighed 23,000 tons.
In Godzilla: Final Wars, Ebirah was 50 meters tall, 100 meters in length, and weighed 50,000 tons.
Ebirah's exact origins are unknown, but it is possible that he was a normal lobster that was mutated by the nuclear radiation produced by the Red Bamboo's activities on Devil's Island. It is also possible that he is a type of giant prehistoric lobster.
In Godzilla vs. the Sea Monster, Godzilla battled Ebirah twice, defeating it with ease on both occasion. In their second battle, Godzilla tore off Ebirah's claws, after which the giant crustacean retreated into the sea, never to be seen again.
Ad blocker interference detected!
Wikia is a free-to-use site that makes money from advertising. We have a modified experience for viewers using ad blockers

Wikia is not accessible if you've made further modifications. Remove the custom ad blocker rule(s) and the page will load as expected.