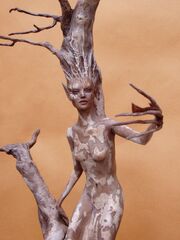 Dryads
are tree
nymphs
,or female tree spirit, in Greek mythology.In Greek drys signifies "oak". Dryads are specifically the nymphs of oak trees.They were normally considered to be very shy creatures, except around the goddess Artemis, who was known to be friends to most nymphs.Dryads are figures in Greek mythology often described as "tied to their homes (trees)," although some dryads are able to leave their post. Many say they are bound to their trees. If the tree dies, they die, but some are said to haunt those who cause their demise. In many representations, dryads cannot move far from their trees.
There are several classes of Dryads:
Meliai are dryads of ash trees.The ash-tree sisters tended the infant Zeus in Rhea's Cretan cave.Gaea gave birth to the Meliai after being made fertile by the blood of castrated Uranus. 
Oreiades are nymphs that lived in mountains,valleys, and ravines.
Hamadryads are nymphs who are supernaturally long-lived and tied to their homes.They were an integral part of their trees, like if the tree dies, the hamadryads die.Of poplars and oak trees are linked to sacred groves. Epimeliad are nymphs who are protectors of the apple trees,sheep,and goats.Their hair was white, like apple blossoms or undying wool.They are also known to be guards of the tree that the golden fleece was kept on.
they have the ability to transform into a tree and back to a nymph.
dryads live for a very long time.
Greek Gods and dryads punish any mortal who harms a tree without asking the dryad associated with the tree first, because if the tree dies, the dryad will die as well.
Ad blocker interference detected!
Wikia is a free-to-use site that makes money from advertising. We have a modified experience for viewers using ad blockers

Wikia is not accessible if you've made further modifications. Remove the custom ad blocker rule(s) and the page will load as expected.