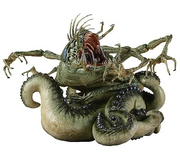 Dagon was originally an Assyro-Babylonian fertility god who evolved into a major northwest Semitic god, reportedly of grain (as symbol of fertility) and fish and/or fishing (as symbol of multiplying). He was worshipped by the early Amorites and by the inhabitants of the cities of Ebla (modern Tell Mardikh, Syria) and Ugarit (modern Ras Shamra, Syria) (which was an ancient city near the Mediterranean containing a large variety of ancient writings and pre-Judeo-Christian shrines). He was also a major member, or perhaps head, of the pantheon of the Biblical Philistines.
His name appears in Hebrew as דגון (in modern transcription Dagon, Tiberian Hebrew Dāḡôn), in Ugaritic as dgn (probably vocalized as Dagnu), and in Akkadian as Dagana, Daguna usually rendered in English translations as Dagan.  he is a fish like monster ending in a mass of otopus tendris while his is isectid  with sharp catish whiskers and lime  green eyes
Trivia
In Ben 10:Ultimate Alien, a god-sized creature called 'The Diagon' is mentioned near the early middle of the episodes, and makes an appearance at the final episodes of the series. He seems strangely familiar in appearance to 'Dagon' and has the same name. The Diagon has all his limbs as tentacles and is so large he even makes Ben's biggest alien, Ultimate Way Big, seem even smaller than Ben's smallest alien, Nanomech, by comparison.                                         
More Diagon:http://ben10.wikia.com/wiki/Diagon
More Ultimate Way Big:http://ben10.wikia.com/wiki/Ultimate_Way_Big
More Nanomech:http://ben10.wikia.com/wiki/Nanomech
Ad blocker interference detected!
Wikia is a free-to-use site that makes money from advertising. We have a modified experience for viewers using ad blockers

Wikia is not accessible if you've made further modifications. Remove the custom ad blocker rule(s) and the page will load as expected.