The Cybermen are a fictional alien race in the British TV series, Doctor Who. The Cybermen are actually humans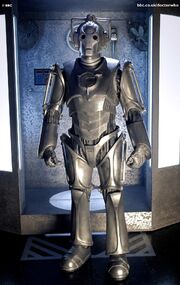 that have had their
brain
removed(usaully against their will) and then transplanted into a metal body, like the one in the picture below. In this process they have all their emotions removed. They have the ability to kill people two ways.One of them is lethally electrocuting people with their hands and the other is firing a laser from a hidden tube in their forearms. Their speech is very computer like with robotic voices. An example of their speech is instead of saying "kill" they say "Delete". Also they have a monarchy type of ruling. Their leader is the "CyberKing"(even if the former person was female) and they have complete control over the Cybermen. Their main goal in life is to convert everyone into a Cyberman. The easiest way to kill them is to shoot them in the head with an electronic information stamp, which overloads their system and kills them.
silver robots with a pale brain in a oval glass tank filled with water
Ad blocker interference detected!
Wikia is a free-to-use site that makes money from advertising. We have a modified experience for viewers using ad blockers

Wikia is not accessible if you've made further modifications. Remove the custom ad blocker rule(s) and the page will load as expected.