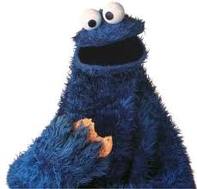 Cookie Monster is a creature of blue fur and "googly" eyes designed to make him more indearing for small children who are watching the popular children's show Sesame Street . He said that before he ate his first cookie he believed that his name was Sid.
He eats many types of food but he loves cookies the most. He once went on a diet of only vegetables until he was overwhelmed by his addiction to cookies and reverted back to his ordinary food pattern.
The cookie monster lives on 1234 Sesame Street. He is known for his catch phrases, such as "Me want cookie!", "Me eat cookie" and "Om nom nom".
He has many friends in Sesame Street including Elmo, Oscar the Grouch, Big Bird and more.
Cookie Monster eats cookies regardless of what kind cookie it is even if it owned by a company or not. (example: Oreo cookies).
Ad blocker interference detected!
Wikia is a free-to-use site that makes money from advertising. We have a modified experience for viewers using ad blockers

Wikia is not accessible if you've made further modifications. Remove the custom ad blocker rule(s) and the page will load as expected.