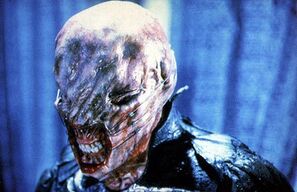 The Chatterer is a Cenobite and a member of Pinhead's gash in the Hellraiser franchise. He is supposedly the "muscle" of the group and more visually disturbing than the others due to his lack of eyes and lips.
The Chatterer was once a human like the other Cenobites. He was a young boy from Germany who accidentally discovered the Lament Configuration box whilst playing with his toys. Thinking that the box was merely another toy, e played with it and solved the puzzle, opening the gateway to the Labyrinth. His curiosity got the better of him and he wandered into Hell without any idea of the horrors that waited within.
After being tortured and transformed into a Cenobite, the Chatterer served Leviathan as a member of Pinhead's gash. His time among the gash was shorter than the other Cenobites as he would die a few years after his conversion when Kirsty Cotton entered the Labyrinth. She would remind Chatterer and the others of their past human lives and they stood in her defence when Dr. Channard came after her. Chatterer was killed when the Cenobite Channard threw a spear through his chest. Upon his death, the Chatterer reverted to his human form.
Description
Edit
As a Cenobite, the Chatterer has been subjected to extensive body modification and ritual scarification. Tall, bald and well built, Chatterer's most distinguishing features are the fact that he has no eyes and that his lips have been peeled back and held in place. He wears the same type of clothing as the other Cenobites, i.e. ripped leather and latex, and appears unable to speak, communicating with the others by clicking his teeth together, hence his name.
Ad blocker interference detected!
Wikia is a free-to-use site that makes money from advertising. We have a modified experience for viewers using ad blockers

Wikia is not accessible if you've made further modifications. Remove the custom ad blocker rule(s) and the page will load as expected.