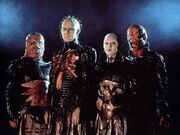 Butterball Cenobite was a character who appeared in Clive Barker's Hellraiser franchise.
Description
As a Cenobite, Butterball has been subjected to extensive body modification and ritual scarification. Bald and obese, Butterball's most distinguishing feature is the fact that his eyes have been sewn shut. He wears the same type of clothing as the other Cenobites, i.e. ripped leather and latex, and usually sports a pair of small round shades.
Associates
Ad blocker interference detected!
Wikia is a free-to-use site that makes money from advertising. We have a modified experience for viewers using ad blockers

Wikia is not accessible if you've made further modifications. Remove the custom ad blocker rule(s) and the page will load as expected.