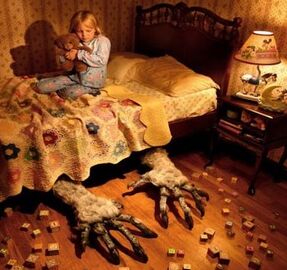 The Boogeyman (also called bogeyman) is a mythical creature that frightens both children and adults. It's shape and varies in the mind of the child who sees him. Boogeyman usually targets children who misbehave and usually hides under the bed, stairs, closet or other dark areas waiting for the right moment to strike. Parents typically use the Boogeyman to get children to behave if they are bad and say that he'll bite off their toes and fingers if they have them over the bed at night or thumbs if a child sucks their thumbs. In many other cases the Boogeyman is another nickname of the Devil, but in most general terms the Boogeyman is a living embodiment of fear and terror and usually used to describe awful scary beings.
Ad blocker interference detected!
Wikia is a free-to-use site that makes money from advertising. We have a modified experience for viewers using ad blockers

Wikia is not accessible if you've made further modifications. Remove the custom ad blocker rule(s) and the page will load as expected.