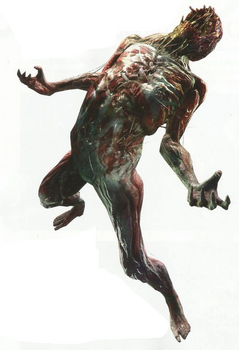 The Bloodshot is a ferocious humanoid creature that appears in Resident Evil 6. These monsters are a mutated form of the zombies created by the gaseous C-Virus.
Biology
The Bloodshot resembles a human being that has been turned inside out. The skin has completely dissolved, exposing all of its muscle tissue and altering the position of several bones. The head no longer looks human; the ears and nose have shriveled and the eyes have melted away, the mouth consisting of rows of individually-wriggling jagged fangs. Occasionally, the creature's heart expands to the point of exposing itself to the outside world, making this organ the Bloodshot's weak spot.
Behaviour
Zombies that can mutate into Bloodshots can be identified by a slight reddening of the skin and glowing blood-red eyes. When sufficiently injured, the mutation is triggered and the zombie's skin melts away, revealing warped muscle and bone.
Bloodshots are much more ferocious than standard zombies and much stronger, capable of taking gunshots without even flinching. They attack by pouncing upon human prey and tearing out the victim's throat. Unlike other zombies, the Bloodshot's weakness isn't its head. Its heart expands as a result of its mutation and occasionally pushes through its ribcage and out of the chest. Any strike to this organ is enough to kill the creature.