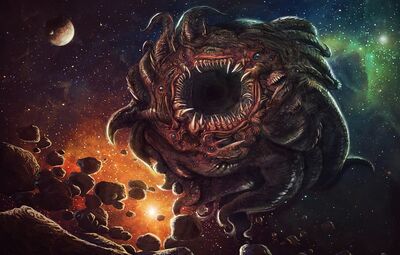 Azathoth
is a
deity
in the Cthulhu Mythos and Dream Cycle stories of H. P. Lovecraft and other authors. Its epithets include
The Nuclear Chaos
,
The Daemon Sultan
and
The Blind Idiot God
, who unintentionally created the universe & sits at the center of it. He is said to be a swirling mass of tentacles reaching an impossible size.
Ad blocker interference detected!
Wikia is a free-to-use site that makes money from advertising. We have a modified experience for viewers using ad blockers

Wikia is not accessible if you've made further modifications. Remove the custom ad blocker rule(s) and the page will load as expected.